Welcome!
Welcome to the small portal for fantasy and science fiction written by Jeff Wilcox. If this was your desired destination, thanks for stopping by! If you arrived by accident, stay a while, browse what's here, and see if any of the writing posted or linked to here suits your interests.
---
07 November 2012 - Just in time for the spirit of NaNoWriMo (even though I'm not technically participating because I'm smack dab in the middle of working on The Chain Which Breaks), The Companions of Tartiël is getting a facelift in the form of a new cover. After some consulting with readers and other writers, I sought out another artist to lend a new and different style to the book's first impression. In particular, I wanted more traditional fantasy artwork, the kind you see on bookshelves when browsing the fantasy section at Barnes & Noble.
Aaron Miller has delivered some phenomenal artwork, and although it will appear very shortly on the eBook cover of The Companions of Tartiël, here's a sneak peek at the cover art he delivered, without the title and byline (still working on those). It features Kaiyr, Caineye, and Wild just as the battle begins against a land dragon outside the village of Andorra!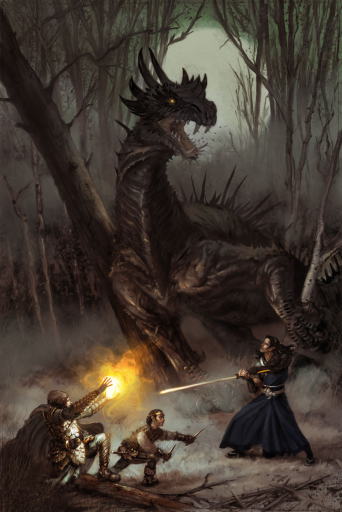 ---
18 July 2012 - The site has been upated from its old, hideous design that used HTML frames to hold its content. The new site is much prettier! And just as dark!